Our listings are provided by our friends over at nextfilm.co.uk.
Three Fugitives (1989)
Director
Starring
Last On
00:00-01:35 Sun 12th Nov 2017 90m
BBC1
Synopsis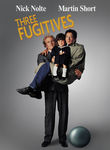 Fresh out of prison, former stickup man Daniel Lucas (Nick Nolte) finds himself taken hostage at a bank by would-be robber Ned Perry (Martin Short), and the cops -- aware of Lucas's history -- naturally assume the two are a team. Before you can say "getaway," Lucas and Perry are on the run with Perry's 6-year-old daughter (Sarah Rowland Doroff) along for the ride in director Francis Veber's fast-paced remake of his French crime caper.