Our listings are provided by our friends over at nextfilm.co.uk.
The Lost World (1960)
Director
Starring
Last On
11:00-12:50 Mon 8th Oct 2018 97m
Horror Channel
Synopsis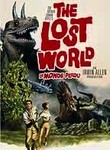 Long before Steven Spielberg and Michael Crichton got there, the "master of disaster" Irwin Allen had already transported audiences to a lost world, author Sir Arthur Conan Doyle's South American plateau forgotten by time. In one of his later roles, Claude Rains leads the cast of lesser stars on an Amazonian expedition where they confront a host of magnified pet-shop lizards with plastic fins in this glossy, if conventionally plotted, fantasy adventure containing intermittent thrills. Clips from this would be a mainstay of Allen's out-of-this-world TV series for years to come.