Our listings are provided by our friends over at nextfilm.co.uk.
The Belles of St Trinian's (1954)
Director
Starring
Last On
07:50-09:45 Sat 7th Oct 2017 115m
ITV3
Synopsis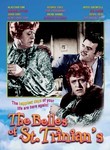 The girls at financially floundering St. Trinian's wind up at odds with each other over the outcome of the Gold Cup race -- some want a horse belonging to their classmate's Arab shiek father to win, while others try to sabotage his chances. Meanwhile, stern headmistress Millicent Fritton (Alastair Sim) and her bookie brother (also Sim) become involved. Inspired by the cartoons of Ronald Searle, this classic British comedy co-stars George Cole.