Our listings are provided by our friends over at nextfilm.co.uk.
Sweet November (2001)
Director
Starring
Last On
14:50-16:05 Sat 11th Jun 2016 119m
ITV2
Synopsis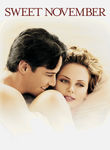 Hot on the heels of Autumn in New York came Circle of Friends director Pat O'Connor's turgid Love Story clone. Keanu Reeves takes the lead role of a narcissistic ad executive who gets too big for his Gucci slip-ons and ends up jobless. Vexed and confused, he encounters free-spirited Charlize Theron who out of the blue offers to be his November - she will commit herself to him for one month and in that time turn him into a nicer person. Love is in the air, but when Reeves wants to continue into December, he uncovers Theron's deep dark secret. The two leads are endearing, as is the San Francisco backdrop, but this is just too sickly sweet - like eating ice cream with sensitive teeth - and is destined to end up as afternoon fare for the weepie brigade.