Our listings are provided by our friends over at nextfilm.co.uk.
Housesitter (1992)
Director
Starring
Last On
01:30-03:30 Sat 14th Oct 2017 120m
5*
Synopsis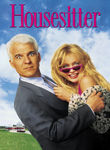 After building his dream house, architect Newton Davis (Steve Martin) proposes marriage to his girlfriend (Dana Delany), only to be summarily rejected. He seeks solace in a one-night stand with a waitress (Goldie Hawn), never imagining that a woman he slept with once would end up posing as his wife. Gwen's ruse is so effective that by the time Newton learns of his "marriage," the entire town feels like they know him.