Our listings are provided by our friends over at nextfilm.co.uk.
Every Which Way but Loose (1978)
Director
Starring
Last On
18:50-21:00 Sun 29th Apr 2018 140m
ITV4
Synopsis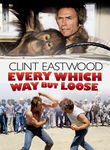 Philo Beddoe (Clint Eastwood) is an easygoing trucker and a great fist-fighter. With two friends -- Orville, who promotes prizefights for him, and Clyde, the orangutan he won on a bet -- he roams the San Fernando Valley in search of cold beer, country music and the occasional punch-up. When Philo falls hard for sexy country singer Lynn Halsey-Taylor (Sondra Locke), he sets out to win her over.