Our listings are provided by our friends over at nextfilm.co.uk.
The Misfits (1961)
Director
Starring
Last On
21:00-23:25 Mon 10th Aug 2020 150m
True Movies
Synopsis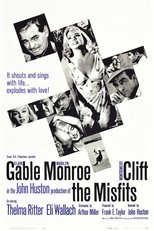 This drama from John Huston is more of a mausoleum than a movie. The last film of both Marilyn Monroe and Clark Gable, and some might say containing the last real performance by Montgomery Clift, it went from box-office flop to cult status within the space of a year. Written by Monroe's then husband, Arthur Miller, it's a grey, solemn and at times pretentious piece about three drifters who hunt horses destined to become pet food. Somehow the flat, arid Nevada landscape mirrors the characters' bleak existence and sets the overall mood of despair and depression. Dogged by various production problems (Monroe's emotional upheavals, Clift's substance abuse, United Artists freezing the budget, Huston's gambling exploits and more), it's a film that's easy to admire - especially for Gable's rugged charm - but so hard to enjoy fully.