Our listings are provided by our friends over at nextfilm.co.uk.
The Man from Colorado (1948)
Director
Starring
Last On
14:55-17:00 Tue 30th Nov 2021 125m
Film4
Synopsis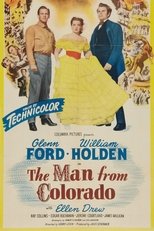 Before he adopted a crew cut for The Blackboard Jungle and went Method, Glenn Ford was a useful, though seldom more than mildly interesting, leading man. Except here, where, unusually, he portrays a sadistic military tyrant appointed as judge to govern Colorado. Ford's unstable character is confronted by a likeable hero in the shape of the pre-Sunset Blvd William Holden. The story by Borden Chase - he was author and co-screenwriter of Howard Hawks's Red River - can be read as an allegory of the brutalising effect the Second World War had on its returning veterans, and the insinuations are clearly there if you look for them.
Our Users Recommend

| Title | Rating |
| --- | --- |
Upcoming Oldies

| Title | Year |
| --- | --- |
Upcoming Newies

| Title | Year |
| --- | --- |
Upcoming Actor Appearances

| Name | # |
| --- | --- |
Prolific Directors

| Name | # |
| --- | --- |