Our listings are provided by our friends over at nextfilm.co.uk.
My Stepmother Is an Alien (1988)
Director
Starring
Last On
23:50-01:55 Wed 8th Sep 2021 130m
Sony Movies Classic
Synopsis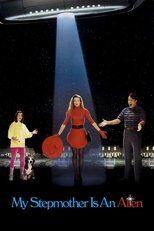 A widowed scientist's space research draws him into a romance with a shapely alien who has come to Earth on a vitally important mission. However, the boffin's daughter suspects there is something not quite right with their relationship. Sci-fi comedy, starring Dan Aykroyd, Kim Basinger and Jon Lovitz and featuring early appearances by Alyson Hannigan, Juliette Lewis and Seth Green.