Our listings are provided by our friends over at nextfilm.co.uk.
Kipps (1941)
Director
Starring
Last On
10:30-12:15 Tue 13th Apr 2021 120m
Talking Pictures TV
Synopsis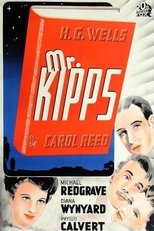 Critics were divided on the release of Carol Reed's adaptation of HG Wells's novel about the draper's clerk who discovers that, when it comes to social climbing, he has no head for heights. Some detected a certain detachment in Reed's direction, allowing Frank Launder and Sidney Gilliat's script to meander and supporting players to overact. But others claimed the film was stuffed with sly Wellsian satire, expertly staged set pieces and top-class acting from Michael Redgrave in the title role. The truth lies somewhere in between, for, while there is much to enjoy here, there are some interminable stretches, especially towards the end.