Our listings are provided by our friends over at nextfilm.co.uk.
Universal Soldier: Regeneration (2009)
Director
Starring
Last On
23:05-01:00 Sat 22nd Sep 2018 120m
ITV4
Synopsis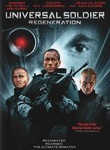 When a Chechen Islamic extremist threatens the world with another nuclear disaster centered in Chernobyl, Ukraine, futuristic supersoldier Luc Deveraux (Jean-Claude Van Damme) leads a team to recapture the power plant and disarm the madman. But when the terrorist turns a clone of Deveraux's old sergeant (Dolph Lundgren) against him, the hero must first take out his old pal. John Hyams directs this installment in the Universal Soldier saga.