Our listings are provided by our friends over at nextfilm.co.uk.
Under Siege (1992)
Director
Starring
Last On
23:00-01:10 Sat 1st Sep 2018 110m
5*
Synopsis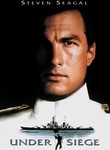 Director Andrew Davis's Oscar-nominated, action-packed thriller takes place on the soon-to-be-decommissioned &NFi;USS Missouri&NFi_;. Disgruntled ex-CIA operative Strannix (Tommy Lee Jones), his assistant Krill (Gary Busey) and their group of terrorists seize the battleship with nuclear blackmail in mind. They've planned for every contingency but ignore the ship's cook, former Navy SEAL Casey Ryback (Steven Seagal) -- an error that could be fatal.