Our listings are provided by our friends over at nextfilm.co.uk.
The Wizard of Oz (1939)
Director
Starring
Last On
11:00-13:05 Tue 25th Apr 2017 125m
5*
Synopsis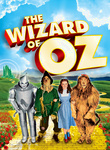 There's no place like home for young Dorothy (Judy Garland), who's been swept away from her farm in Kansas to a wonderland of munchkins, flying monkeys and different-colored horses. She must follow the Yellow Brick Road to the all-knowing Wizard of Oz to find her way home. Along the way, she meets the Scarecrow (Ray Bolger), the Tin Man (Jack Haley) and the Cowardly Lion (Bert Lahr), who help her fend off the Wicked Witch of the West (Margaret Hamilton).