Our listings are provided by our friends over at nextfilm.co.uk.
The Vault of Horror (1973)
Director
Starring
When
&

Where?
02:40

-

04:20

Fri 14th Dec 2018

90m
Horror Channel
Synopsis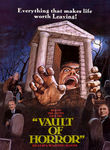 Five men in a lift end up trapped together in a basement, and share their recurring nightmares. A private eye tells a story of vampires, a man obsessed with tidiness drives his wife to murder, a magician learns the folly of crossing an Indian mystic, an author fakes his death, and an artist uses voodoo to get revenge on his enemies. Horror anthology, starring Daniel Massey, Denholm Elliott, Tom Baker, Anna Massey and Terry-Thomas.