Our listings are provided by our friends over at nextfilm.co.uk.
The Narrow Margin (1952)
Director
Starring
Last On
06:00-07:25 Tue 29th Aug 2017 70m
Movies4Men
Synopsis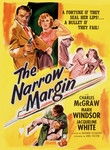 A hard-boiled detective is assigned to ensure a gangster's widow testifies in court and escorts her to Los Angeles by train - but their mutual enmity looks set to guarantee an eventful journey, even without the intervention of hit-men. It's not long before paranoia takes hold and their fellow passengers fall under suspicion. Suspenseful thriller from director Richard Fleischer. Charles McGraw, Marie Windsor, Jacqueline White, Gordon Gebert and Queenie Leonard star.