Our listings are provided by our friends over at nextfilm.co.uk.
The Mouse That Roared (1959)
Director
Starring
Last On
14:55-16:35 Mon 4th Feb 2019 83m
Film4
Synopsis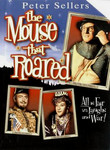 In this adaptation of Leonard Wibberley's satirical novel, the world's smallest country, the Duchy of Grand Fenwick, stays afloat by exporting wine to America. But when California bottles a cheaper version, bankruptcy looms for the tiny Duchy. So, they take matters into their own hands by waging war against America. In a comic tour de force, Peter Sellers plays three separate roles. Jean Seberg co-stars and Jack Arnold directs.