Our listings are provided by our friends over at nextfilm.co.uk.
The King of Comedy (1983)
Director
Starring
Last On
01:20-03:30 Wed 24th Jan 2018 135m
Film4
Synopsis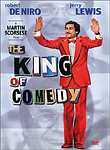 Director Martin Scorsese hits a satirical bulls-eye in this black comedy that explores the absurd lengths to which nebbish Rupert Pupkin (Robert De Niro) will go to land a spot on the TV talk show of his idol, Jerry Langford (a wonderfully caustic Jerry Lewis). Pupkin believes that one appearance on Langford's show will be his ticket to stardom, so he kidnaps his idol and sets into motion a chain of events you have to see to believe!