Now with added Movie Mix due to popular demand.
The Killing Fields (1984)
Director
Starring
Last On
00:20-02:35 Wed 6th Mar 2013 135m
BBC1
Synopsis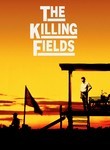 Sam Waterston portrays Sydney Schanberg, the New York Times journalist who won a Pulitzer for his coverage of the civil war in Cambodia. Aided by his translator, Dith Pran, Schanberg shines a light on the tragedy and madness of the bloody conflict.
Genres / Tags
I'm grabbing some extra information for the films from Netflix. I am in no way affiliated with Netflix and no money changes hands between us for advertising or any other purpose.