Our listings are provided by our friends over at nextfilm.co.uk.
The Hot Rock (1972)
Director
Starring
Last On
16:50-18:50 Tue 5th Mar 2013 120m
Film4
Synopsis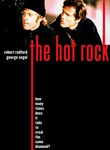 Robert Redford stars as jewel thief and ex-con John Dortmunder, who's hired to pinch a priceless African sparkler from a New York City museum in this Oscar-nominated caper comedy. To help pull off the elaborate heist, Dortmunder drafts a safecracker (George Segal), a wheelman (Rob Leibman) and an explosives expert (Paul Sand), but the job snowballs after a string of missteps and mishaps. Zero Mostel shines in a supporting role as a slimy lawyer.