Dear visitor, our listings should be getting back to normal now, thanks to our friends over at nextfilm.co.uk.
The Frogmen (1951)
Director
Starring
Last On
13:00-15:00 Tue 15th Mar 2016 120m
Film4
Synopsis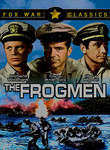 Richard Widmark heads the star-studded cast (which includes Jeffrey Hunter, Dana Andrews and Gary Merrill) in this fast-paced World War II adventure film from director Lloyd Bacon. Widmark plays Lt. Cmdr. John Lawrence, a stringent naval officer who must prove his mettle to earn his underwater demolition team's respect after stepping into the shoes of their beloved former leader. The movie scored an Oscar nod for Best Cinematography.
Genres / Tags