Our listings are provided by our friends over at nextfilm.co.uk.
The Fly (1958)
Director
Starring
Last On
13:00-14:50 Mon 3rd Dec 2018 110m
Horror Channel
Synopsis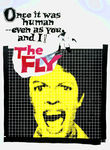 This is no match for the superior David Cronenberg remake, but it's still a slick slice of absurdist 1950s sci-fi in its own right. Based on a Playboy short story and with a script by Shogun writer James Clavell, the plot has matter-transmitter experiments giving Al Hedison (later David Hedison) the head and arm of a common house fly, while Vincent Price, as Hedison's brother, has histrionics about family curses. Enjoyable enough if you can ignore the inconsistencies of the premise, this plush flesh-crawler includes many marvellous moments to savour, not least of which are the fly's-eye prism view and the tiny half human/half fly trapped in a cobweb shrieking "Help me!".