Our listings are provided by our friends over at nextfilm.co.uk.
The End of the Affair (1999)
Director
Starring
Last On
22:40-00:50 Thu 6th Jun 2013 120m
Movie Mix
Synopsis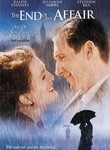 In wartime London, novelist Maurice Bendrix (Ralph Fiennes) has an affair with Sarah Miles (Julianne Moore), his best friend Henry's (Stephen Rea) wife. Years later, after Sarah has returned to Henry, Maurice tries to understand why she abruptly broke off their romance. It's made clear when he reads her diary, but Maurice is determined to be a part of her life in director Neil Jordan's subtle, Oscar-nominated drama about the heart's intricacies.