Our listings are provided by our friends over at nextfilm.co.uk.
The Edge (1997)
Director
Starring
Last On
00:25-01:50 Thu 21st Dec 2017 145m
Sony Movies
Synopsis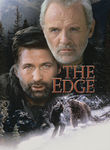 A plane crash leaves a billionaire stranded in the wilderness along with a photographer, who is secretly having an affair with his wife. The two men must put aside their conflict and work together to survive, especially when a ferocious bear starts pursuing them. Adventure, with Anthony Hopkins, Alec Baldwin and Elle Macpherson. Includes Movie News at 11.55pm.