Our listings are provided by our friends over at nextfilm.co.uk.
The Browning Version (1951)
Director
Starring
Last On
21:00-22:50 Wed 23rd May 2018 105m
Talking Pictures TV
Synopsis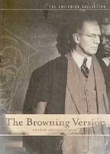 Infinitely superior to Mike Figgis's 1994 remake, this expert collaboration between writer Terence Rattigan and director Anthony Asquith is another in a list that includes The Yellow Rolls-Royce and The VIPs. But what makes this version of Rattigan's hit play so memorable is the mesmerising performance of Michael Redgrave as the classics teacher whose life is as redundant as his subject. The supporting cast is also first-rate, with Jean Kent chillingly heartless as Redgrave's adulterous wife and Nigel Patrick suitably cocky as the man who cuckolds him. The shabby gentility of the school is neatly captured and the merciless revelation of each new woe is, thanks to Redgrave's dignified self-pity, agonising to watch. Only the concluding optimism fails to ring true.