Our listings are provided by our friends over at nextfilm.co.uk.
The Assignment (1997)
Director
Starring
Last On
00:50-03:10 Fri 3rd Apr 2015 135m
Movie Mix
Synopsis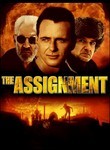 A US naval officer is accidentally arrested in Israel due to his uncanny resemblance to a renowned international terrorist. The incident comes to the attention of a veteran CIA operative who has become obsessed with the case and persuades the officer to help him by assuming the identity of the notorious killer. Thriller, starring Donald Sutherland, Aidan Quinn, Ben Kingsley and Claudia Ferri.