Our listings are provided by our friends over at nextfilm.co.uk.
Stage Door (1937)
Director
Starring
Last On
06:30-07:55 Sat 18th Feb 2017 90m
BBC2
Synopsis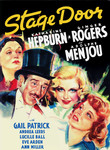 Gregory La Cava captures the drama in Edna Ferber's famous play about the heartaches reaped under the lights of Broadway. Socialite Terry Randall (Katharine Hepburn) is determined to make a go of her stage career without the help of her family and upper-crust peers. She moves into a boardinghouse filled with wanna-bes just like her, but her father just can't keep himself from giving her a boost, which may end up hurting more than helping.