Our listings are provided by our friends over at nextfilm.co.uk.
Shooter (2007)
Director
Starring
Last On
00:55-03:00 Sat 30th Mar 2019 160m
movies4men
Synopsis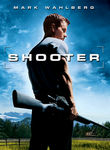 An expert marksman is coaxed out of seclusion by colleagues who need his help in preventing a plot to kill the president. But he realizes he's been set up when he's framed for the assassination attempt. Can he bring the real culprits to justice?