Our listings are provided by our friends over at nextfilm.co.uk.
See Spot Run (2001)
Director
Starring
Last On
11:35-13:30 Sat 11th Nov 2017 105m
ITV2
Synopsis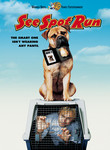 After being bitten by a drug-sniffing dog, mob boss Sonny Talia (Paul Sorvino) marks the canine for a hit in director John Whitesell's comedy. The FBI's solution? Put the dog, Agent 11, into a witness protection program -- with goofy, dog-hating mailman Gordon (David Arquette) as the guardian. But Agent 11 has plans to escape and get back to his job. After all, it has to be easy to outwit a slob of a postman and two professional hit men.