Our listings are provided by our friends over at nextfilm.co.uk.
Run Silent Run Deep (1958)
Director
Starring
Last On
09:25-11:20 Mon 1st Jan 2018 110m
Movies4Men
Synopsis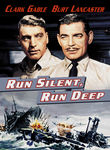 Film legend Clark Gable plays single-minded Cmdr. Richardson, who lost his submarine during an overzealous pursuit and has sworn to take revenge against the Japanese destroyer that sunk his ship. But on the skipper's new vessel, the executive officer (Burt Lancaster) believes Richardson's obsession is putting the crew's lives in danger, leading to talk of mutiny in this taut World War II thriller also starring Jack Warden.