Our listings are provided by our friends over at nextfilm.co.uk.
Quatermass and the Pit (1967)
Director
Starring
Last On
13:00-15:00 Tue 31st Jul 2018 100m
Horror Channel
Synopsis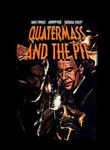 Builders working on a London Underground extension unearth what they think is an unexploded bomb. When renowned scientist Bernard Quartermaster investigates, he discovers something far deadlier - an ancient spaceship containing the remains of insect-like aliens, whose psychic abilities still represent a deadly threat to the human race. Sci-fi horror based on the classic TV series, starring Andrew Keir, Barbara Shelley, James Donald and Julian Glover.