Our listings are provided by our friends over at nextfilm.co.uk.
Navy SEALS (1990)
Director
Starring
Last On
00:15-01:20 Wed 20th Dec 2017 130m
ITV4
Synopsis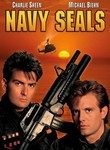 This action-packed adventure finds Lt. Curran (Michael Biehn) leading a Navy SEAL unit on a mission to Beirut, Lebanon, to rescue a group of American hostages. But the SEALs face an even greater threat when they learn that the terrorists possess Stinger missiles. A reporter (Joanne Whalley) may be the key to helping them track down the stash of weapons before the terrorists can launch a deadly attack. Charlie Sheen and Bill Paxton co-star.