Our listings are provided by our friends over at nextfilm.co.uk.
Mystic Pizza (1988)
Director
Starring
Last On
03:45-05:50 Thu 12th Jul 2018 110m
Sony Movies
Synopsis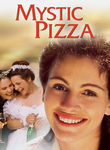 Reality rudely intrudes on the plans of three blue-collar, New England teens who share their dreams while slinging hash at the local pizzeria. Daisy (Julia Roberts) entertains visions of marrying into the upper crust, while levelheaded sister Kat (Annabeth Gish) wants to go to Yale. Meanwhile, wisecracking Jojo (Lili Taylor) has a man on the hook but finds that commitment cramps her style. A quirky linchpin of 1980s cinema, Mystic Pizza delivers.