Our listings are provided by our friends over at nextfilm.co.uk.
Morning Departure (1950)
Director
Starring
Last On
09:55-11:50 Fri 6th Jul 2018 130m
Talking Pictures TV
Synopsis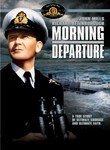 A collision with a mine scuttles a British submarine, leaving a dozen survivors facing a watery grave in this taut high-seas drama. John Mills plays Lt. Cmdr. Peter Armstrong, who must keep his cool if the remaining crew is to make it out alive. An atmospheric character study about men under enormous stress, director Roy Ward Baker's World War II film also stars Richard Attenborough as a craven seaman who can't handle the pressure.