Our listings are provided by our friends over at nextfilm.co.uk.
Machete (2010)
Director
Starring
Last On
00:50-02:55 Sat 6th Oct 2018 125m
Movies4Men
Synopsis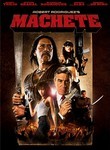 Hired to assassinate a politician, vigilante and ex-Federale Machete (Danny Trejo) nearly dies when a sniper shoots him during the job. Out for revenge, he's joined by a reluctant old buddy (Cheech Marin) who's become a pacifist priest. Written and co-directed by Robert Rodriguez, this homage to exploitation films based on his fake trailer in Grindhouse co-stars Robert De Niro, Michelle Rodriguez, Lindsay Lohan, Jessica Alba and Steven Seagal.