Our listings are provided by our friends over at nextfilm.co.uk.
Look Who's Talking Too (1990)
Director
Starring
Last On
12:50-14:25 Fri 15th Dec 2017 75m
Sony Movies
Synopsis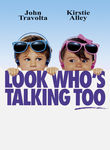 The original Look Who's Talking was an inspired example of high concept Hollywood movie-making. But, inevitably, they just wouldn't let the idea lie, and, although this sequel succeeded in reuniting the stars of the first movie, it is a pallid retread. The twist this time around is that precocious Mikey (voiced again by Bruce Willis) gets a baby sister (vocals courtesy of Roseanne Barr), but, just to be doubly sure, director Amy Heckerling throws in a couple of other big name "cameos" - Damon Wayans (the voice of Eddie) and Mel Brooks (the voice of Mr Toilet Man). Kirstie Alley and John Travolta have very little to do, although the latter is given a dance number, and a worrying strain of sentimentality starts to seep through.