Our listings are provided by our friends over at nextfilm.co.uk.
I, Robot (2004)
Director
Starring
Last On
22:15-00:15 Sat 10th Nov 2018 115m
Channel 4
Synopsis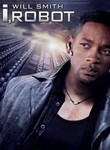 The inventor of an advanced form of intelligent robot is found dead, and the detective investigating the case is certain that one of the scientist's mechanical creations is responsible - but no one believes his theory because the robots have been programmed to prevent them from harming humans. Sci-fi thriller, inspired by the Isaac Asimov stories, starring Will Smith, Bridget Moynahan and Alan Tudyk. Includes Movie News at 9.55pm.