Our listings are provided by our friends over at nextfilm.co.uk.
Hobo with a Shotgun (2011)
Director
Starring
Last On
00:55-02:40 Mon 13th Aug 2018 110m
Horror Channel
Synopsis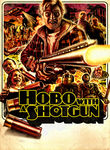 This gleefully over-the-top revenge fantasy involves a bum who rolls into town hoping to start over, only to find his adopted city saturated in violence and ruled by a crime lord. The hobo's answer? Lay waste to every lowlife who crosses his path.