Our listings are provided by our friends over at nextfilm.co.uk.
Heist (2001)
Director
Starring
Last On
00:05-01:10 Thu 16th Nov 2017 105m
Sony Movies
Synopsis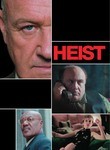 Duplicity and double crosses are the order of the day in this serpentine thrill ride from venerable writer-director David Mamet. After being caught on security cameras during a robbery at a Manhattan jewelry store, master thief Joe Moore. Trouble is, pinching a shipment of gold ingots from a Swiss cargo plane won't be easy.