Our listings are provided by our friends over at nextfilm.co.uk.
Gunga Din (1939)
Director
Starring
Last On
08:50-10:10 Wed 10th Apr 2019 112m
movies4men
Synopsis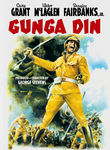 Two British soldiers stationed in 19th-century India are shocked to learn their comrade-in-arms is planning to quit the service and get married. However, their efforts to keep him in the army have to wait when a fanatical cult launches an uprising, leaving an unassuming water carrier with the task of saving the day. Action adventure, inspired by Rudyard Kipling's classic poem, starring Cary Grant, Victor McLaglen, Douglas Fairbanks Jr, Joan Fontaine and Sam Jaffe.