Our listings are provided by our friends over at nextfilm.co.uk.
Five Easy Pieces (1970)
Director
Starring
Last On
12:30-14:30 Sat 25th Jul 2009 110m
Five US
Synopsis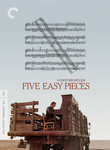 Take a look at this accomplished drama and you'll see why Jack Nicholson became a Hollywood superstar. He's lean and hungry, fresh from Easy Rider and in cahoots with several of the best indie film-makers of the time: director Bob Rafelson, producer Bert Schneider and writers Carole Eastman and Robert Towne. Nicholson is simply magnetic as Bobby Dupea, emotionally repressed and unable to adjust to the two worlds he inhabits among blue-collar oilmen and the family home, a sort of Ibsen commune devoted to maths and Mozart. The film, superbly directed by Rafelson, shifts the late 1960s hippy drop-out genre into the Ingmar Bergman class: it's cerebral, yes, but also moving and witty. It also has a classic scene when Nicholson orders a sandwich at a diner and asks the waitress to hold the chicken and just serve him the toast.