Our listings are provided by our friends over at nextfilm.co.uk.
Django (1966)
Director
Starring
Last On
23:00-00:50 Sun 24th Sep 2017 95m
Movies4Men
Synopsis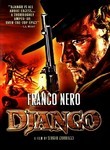 A mysterious stranger arouses suspicion when he arrives in a small town on the Mexican border, bringing a coffin in his wake. When he attempts to save a woman from bandits, he finds himself drawn into a feud between the outlaws and racist American thugs. But it is not long before he gets a chance to prove he's a merciless force to be reckoned with. Spaghetti Western, starring Franco Nero, Angel Alvarez and Loredana Nusciak. Dubbed in English.