Our listings are provided by our friends over at nextfilm.co.uk.
Desk Set (1957)
Director
Starring
Last On
09:20-11:20 Thu 20th Sep 2018 125m
Talking Pictures TV
Synopsis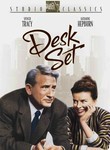 Bunny Watson (Katharine Hepburn) is a reference librarian whose tepid long-term relationship with television executive Mike Cutler (Gig Young) is fizzling. Enter Richard Sumner (Spencer Tracy), a no-nonsense computer genius who's created a new product named Miss Emmy to automate the work of Bunny and her co-workers. The two butt heads in the beginning, but soon their disdain for one another turns to romantic sparks.