Our listings are provided by our friends over at nextfilm.co.uk.
Black Narcissus (1947)
Director
Starring
Last On
13:00-14:40 Thu 29th Mar 2018 125m
BBC2
Synopsis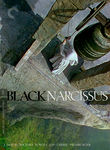 Secular matters consume five missionary nuns who head to the Himalayas to establish an Anglican school. In the meantime, the quintet's leader (Deborah Kerr) must grapple with the envy of one nun (Kathleen Byron), the bitterness of a man (David Farrar) and the cruelty of the elements. The film received Academy Awards for Best Art Direction and Best Cinematography, in part for its Technicolor innovations.