Dear visitor, our listings should be getting back to normal now, thanks to our friends over at nextfilm.co.uk.
Anastasia (1956)
Director
Starring
Last On
11:00-13:05 Tue 5th Mar 2013 125m
Film4
Synopsis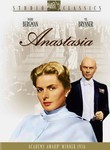 In 1928 Paris, a pair of Russian émigrés coaches a troubled girl to impersonate Anastasia, the presumed-dead daughter of Czar Nicholas II, in order to collect a reward. As the hoax unfolds, the conspirators suspect they've found the real Anastasia.
Genres / Tags