Our listings are provided by our friends over at nextfilm.co.uk.
An American Haunting (2005)
Director
Starring
Last On
02:45-04:30 Fri 22nd Mar 2019 115m
Horror Channel
Synopsis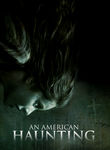 A couple in early 1800s Tennessee are disturbed by terrifying events linked to an apparently supernatural presence inside their home. Lacking any rational explanation, the trouble is blamed on a vengeful neighbour, who is a suspected witch. Meanwhile, the situation becomes critical when their daughter is possessed by a spirit that threatens to destroy her. Horror, based on a true story, with Donald Sutherland, Sissy Spacek, Rachel Hurd-Wood and James D'Arcy.